What is the Energy Company Obligation?
First introduced in 2013 with the aim of improving the energy efficiency of fuel poor households in Great Britain, ECO requires obligated suppliers to supply households with funding for the retrofit of energy efficiency improvements or measures. There have been three rounds of ECO funding so far, resulting in the installation of measures into 2,201,215 households and a lifetime emission saving of ~ 53.8 MtCO2. Yet further improvements are needed to drive targeted energy efficiency improvements in Britain's worst performing homes.
ECO Could Help to Tackle Fuel Poverty
More than 3 million households are in fuel poverty in England alone according to the latest government statistics. The Government updated the way fuel poverty is measured within its Sustainable Warmth Strategy this year, setting out a new Low Income Low Energy Efficiency (LILEE) metric that takes the energy efficiency rating of a home into consideration, using the EPC rating. This new formula means that a household is considered fuel poor if their income, after fuel costs, is below the poverty line and they live in a property with an EPC rating of D or below. Increasing the number of low-income households with an EPC band C or above will therefore directly reduce the proportion of households living in fuel poverty.
Bringing as many fuel poor homes as possible to a minimum Band C rating by 2030, in line with England's statutory fuel poverty target, is therefore essential to tackling the issue.
The next iteration of ECO could play an instrumental role in bringing all homes to EPC band C, but the framework and delivery model must be improved.


The SEA's key recommendations are highlighted below:
ECO4 Must Drive a Multi-Measure Approach
ECO has historically aimed to deliver the greatest volume of measures at the lowest cost to the taxpayer, but the focus on cost has led to installations in properties where they are simpler and cheaper rather than where they are most needed. Often, residents in the most poorly insulated homes are those most in need of support, so ECO must take a multi-measure, whole-house approach and address those not only homes in need of low-cost energy efficiency measures but also those requiring structural or more expensive solutions.
Incentivising Fabric First
ECO has slowly increased the delivery rate of multiple measures, but this has not necessarily supported a fabric first approach with solid wall insulation (SWI), often required in poorly insulated homes, making up just 4.6% of measures installed since 2018.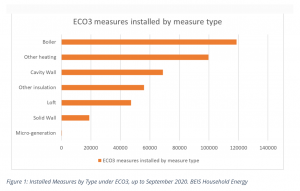 A cap on the number of broken boiler replacements installed was introduced in ECO3 along with a requirement for boiler replacements to be installed alongside a form of insulation. However, with floor insulation making up the lion's share (83%) of measures installed in conjunction with gas boilers, as shown in Figure 1, the cap has done very little to drive deployment of more expensive, but necessary, measures such as SWI.
Fully Addressing the Problems Faced by Worst Performing Homes
A fundamental change to the objectives of ECO is needed to ensure that the worst performing homes (i.e. EPC Band E, F and G) can benefit from the improvements they need, even if they are relatively more expensive. A higher spend per property would mean that fewer homes would receive measures under ECO but this would fully address the complex structural problems faced by homes most in need. To ensure that the supply chain adapts, it is also vital that the ECO scoring framework appropriately incentivises a multi measure approach to cover the cost of the new roles required under PAS 2035:2019. These changes must be accompanied by greater engagement with households to ensure that they understand the benefits of a multi-measure approach.
Innovation Must Be Further Encouraged

Innovation routes were added to ECO in 2018 but they have had minimal impact on delivery. This has been linked to strict and costly application processes and a lack of understanding and communication. To address these issues and provide more frequent opportunities for innovation, it is vital that SAP is updated more regularly and that application processes are clearly and consistently communicated to those applying for innovation funding through ECO.
In-Situ Performance
No obligated suppliers have yet sought to use the in-situ performance mechanism introduced into ECO in 2018. This mechanism was introduced to support the deployment of real time data monitoring tools that have the potential to transform the retrofit and construction markets. However, there are challenges in the current model which will continue to stifle deployment through ECO if left unaddressed. Additional incentives should therefore be developed for suppliers to deliver their obligation through in-situ performance.
The upcoming Heat and Buildings Strategy will hopefully be published alongside a strong package of consultations on policies to improve the energy efficiency of homes and buildings. Proposals for the next stage of ECO will likely be included and we are hopeful at the SEA that they will go as far as they can to tackle the issue of fuel poverty by addressing the recommendations set out above. We must make certain that those who are most vulnerable can escape the impacts of issues like fuel poverty and benefit from a safe, comfortable and affordable place to live.
These recommendations can also be explored in more detail within the SEA's report: Recommendations for a Future Energy Company Obligation.
A blog by Jade Lewis.