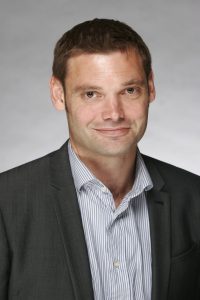 Overseeing energy supply is a story of managing stocks and flows. Take the petrol crisis; stocks in refineries were fine while reports suggest tanker deliveries to garages remained mostly unchanged throughout. So, no actual disruption to flows out to petrol stations, but rumours of truck driver shortages led Government to tell us not to panic. The result was a nation deciding their aggregated, or collective, fuel tank – in normal times likely around half full across our 30 million cars – needed to be full and stay full. Cue queues.
While garages took the decision to set a maximum spend at £30, a counter-intuitive plan pitched a mimimum spend of £60 to solve the crisis. The logic – remove all those simply 'topping-up' for fear of missing out from the queues. So while the 'send in the army' decision increased flows from refinery to forecourt, a far easier solution lay in managing the 30 million car collective fuel tank back down from near full to half empty.
A much more complex story of energy stocks and flows to heat and power our homes is playing out this autumn, and will continue to play out with Government's commitment to decarbonise the UK's electricity system by 2035. A more stretching challenge when considering we must move both transport and a large chunk of home heating onto the electricity grid.
A breathless run through the causes of the current energy price crunch goes something like; 'Asia wants all the gas', 'Russia is turning off the taps', 'France wants fishing rights or will disconnect the electricity interconnector', 'The wind isn't blowing', 'The wind is now blowing, but that doesn't set wholesale energy prices', 'Why did we stop fracking?, 'Fracking wouldn't impact the gas price!', 'We didn't build enough; gas storage, nuclear [insert other long term infrastructure project here]'.
However we muddle through the coming winter, a robust net-zero electricity system that is able to balance the stocks and flows of supply (whether that be wind intermittency, nuclear base load, large battery storage or another) to deliver affordable heat and power will be a significant challenge. What is certain is we will fail if we do not robustly manage the one thing missing from all the headlines – energy demand.
The 'Beast from the East' in winter 2017/18 makes the point on electrifying home heat. At its coldest, the UK Energy Research Centre[1] shows gas demand at peak times of the day was four times the electricity demand.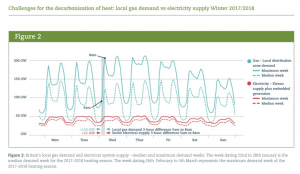 A robust electricity system – offering both energy security and net-zero – must work to peak demand rather than average; so do we really need enough nuclear power stations and wind turbines to meet these kind of peaks?
Clearly, that is not the plan; it would be the equivalent of solving the recent petrol supply issue by building infrastructure to ensure every car fuel tank could be full all the time. A huge cost to deliver huge redundancy in the system. The worry is we sleepwalk into having to build power generation capacity we really do not need – a significant cost we will all pay for. The key, the mantra, the mission statement of the next fifteen years must instead be; ensure every household is as; efficient, flexible, and low carbon as possible.
Efficient, so they can heat their home with the minimum amount of energy possible while ensuring that home is very slow to leak heat.
Flexible, so the heating can move away from peak demand times so not everyone needs it at the same time (see the 'slow to leak heat' point above)
Low carbon, so whatever is supplying energy in to homes – the fuel, its time of use, and quantity used – is optimized to deliver against net zero aspirations.
Sadly, there is no such supply chain delivering such a service. There is no phone number, trusted trader or man in a van available on the internet. Energy suppliers are not incentivised to sell such services (quite the opposite), while the grids are not capable of rewarding the desired flexibility. Government policy incentivises the install of measures – loft insulation or heat pumps. But these are generic solutions to a problem that begs a bespoke tailored service. A service where home efficiency and flexibility improvement are measured onsite and the risk of a poor outcome – not as efficient, as flexible or as low carbon as promised – should sit with the supply chain and not the homeowner.
So the solution lies in creating a supply chain that removes friction and risk from a householder decision to act. The first step on that journey is for Government to announce a concrete roadmap to move the UK Energy Performance Certificate, and all the policies it underpins, to requiring a measurement of actual home performance. In the words of Government's Energy Performance Certificate Action Plan;
"Energy Performance Certificates (EPCs) will need to move from a reflection of the features of a building (fabric, services and installed improvement measures) to a true measure of 'in use' building performance'
But when? And which policies? The technology to measure 'as efficient as possible' is ready – our sister company is selling measured home efficiency improvement on the continent. The 'flexible' element is a matter of appropriate market incentives to reward smart heating actuation – turning on and off. Show there is demand and the innovation will rapidly follow.
Alongside this roadmap, Government must also give householders a long term 'call to action' that rewards those willing to act. Linking Stamp Duty payments to home energy efficiency – amounts flexed down for efficient homes and up for less-efficient ones but with a rebate if action is taken – would be a great start.
Should the world face a future energy supply shock in a decade, will the equivalent headlines listed above support an addendum for the UK, and other forward looking nations, that says 'We are well-insulated from such turbulence, both figuratively and literally'?
[1] ukerc_bn_decarbonisation_heat_local_gas_demand_vs_electical_supply_web.pdf (d2e1qxpsswcpgz.cloudfront.net)