Read about our annual Parliamentary Reception for 2022, including speeches from Lord Best, Lord Callanan and our Chief Executive Jade Lewis.
On the 23 May we hosted our Parliamentary Reception at the Houses of Parliament. This event aimed to bring people together from across the energy sector to discuss the biggest problems we face today. This included topics around fuel poverty, energy efficiency and how to mitigate these issues for the future. We were kindly sponsored by Daikin, Ecodan Heating and Vaillant for this event.
The opening speech at the Parliamentary Reception was delivered by Lord Best.
Quote from his speech: "Saving energy becomes a crucial objective in terms of both tackling fuel poverty and creating green jobs."
Lord Callanan then spoke about the importance of industry collaboration as well as policy in reaching Net Zero.
Quote from his speech: "We are looking to put more measures in place to help homeowners install green solutions and meet the cost of retrofit."
The final speaker was our Chief Executive Jade Lewis discussing heat and building policy and what is needed for future policy.
Quotes from her speech: "A number of gaps still need to be addressed to help us realise the SEA's vision. Our soon to be published report will set out these gaps in more detail and our recommendations for government."
"Our vision will be achieved when all buildings are energy efficient, Net Zero carbon, warm and healthy. We need rapid up-take of innovation and most importantly, we need long-term policy and regulation."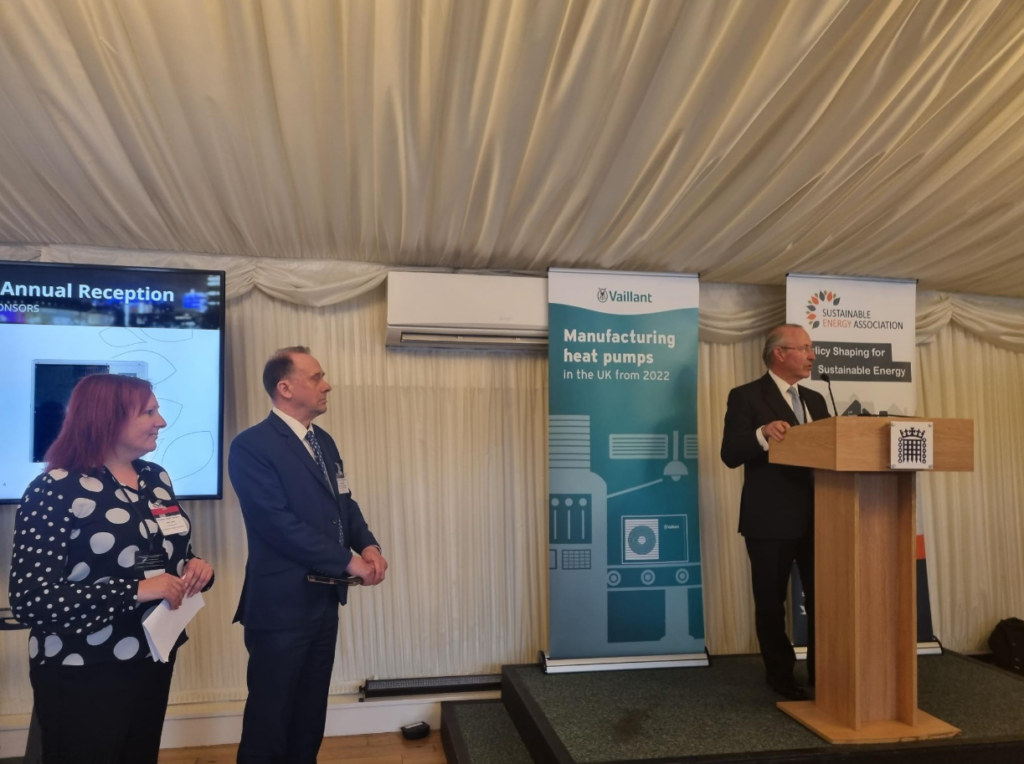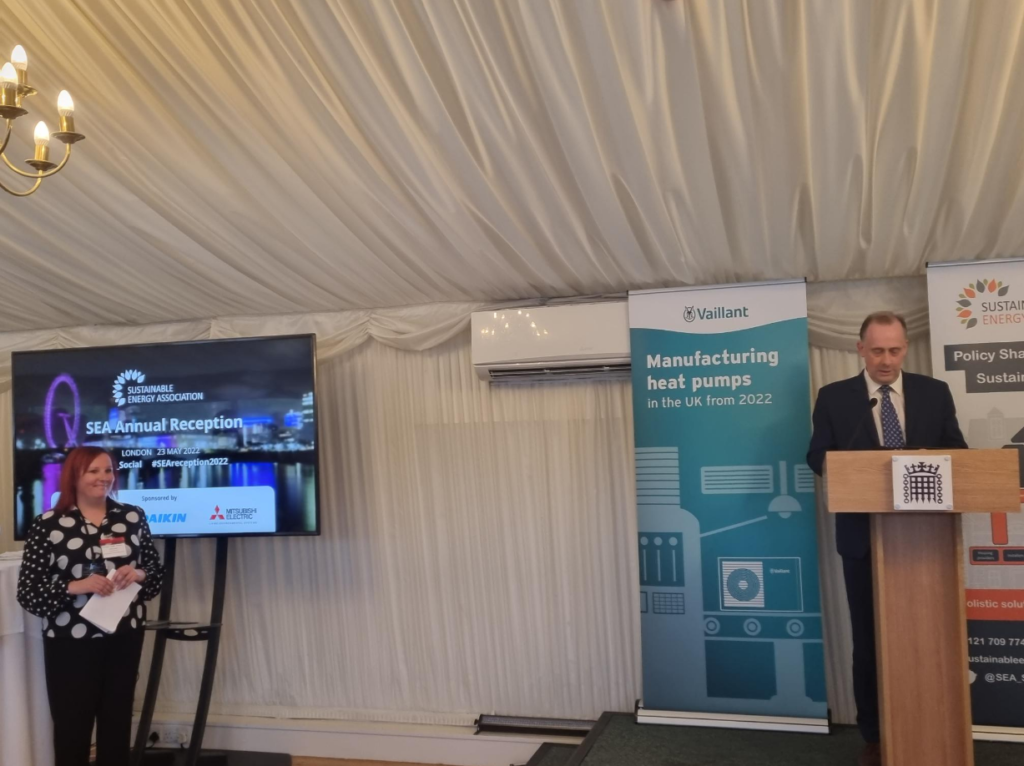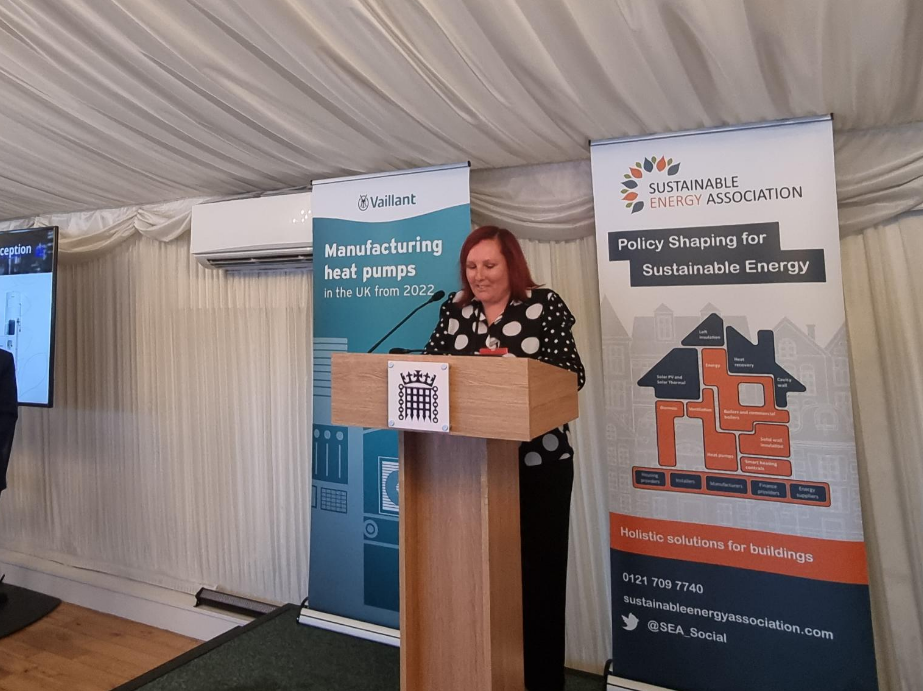 Jade Lewis' full speech
Good evening everyone.
I'm really excited to be here tonight.
After 2 years in the role, it is fantastic to see so many of our members, policymakers, and industry colleagues in the room, many of you I'm only just meeting in person for the very first time.
It's also, fantastic that during this time we have seen a monumental shift in Government focus, with net zero placed firmly on the policy agenda. It's a great step in the right direction.
The SEA has been pleased to work collaboratively with BEIS and others to help shape many of the key policies on heat and buildings, and at times provide a challenge, and we look forward to continuing to do so.
SEA MISSION
The SEA exists to help create living and working spaces fit for future generations.
We recognise that there is no single solution to decarbonising energy in buildings. A range of technology solutions, financing models, and delivery methods are required. In practice, reducing the energy needs of buildings requires a multi technology solution, tailored to the circumstances of the building and its occupants. In other words, a whole house, technology neutral approach, which starts with the building fabric.
Our vision will be achieved when all buildings are energy efficient, net-zero carbon, warm and healthy.
We have identified 5 key deliverables that must be addressed if we are to achieve this vision.
Firstly, that the knowledge and skills exist in the industry to deliver a holistic approach to decarbonising buildings, while enhancing health and wellbeing.
Secondly, good quality and high performance are the norm in the sustainable energy and energy efficiency sectors. A shift towards verified, in-use performance is required.
We need strong consumer and client demand for energy efficiency and low carbon heating solutions.
Also, rapid take up of innovation to advance the delivery of energy efficient and low carbon buildings.
But most importantly, we need long-term, joined up and effective policy and regulation to deliver energy efficiency and sustainable energy in our UK buildings.
Over the past 18 months we have seen a huge range of new policies and strategies being published by government, including the eagerly awaited Heat & Buildings Strategy. A very welcome change from the days of removing green rubbish. However, there are still a number of gaps that need to be addressed to help us realise this vision.
ABLE TO PAY
A significant gap remains for the 60% of existing homes which are owner-occupied and not fuel poor, the so called 'able-to-pay' sector. With the current Energy Bill Crisis, which is expected to remain with us for the long term, we are concerned that many more households will fall into fuel poverty, and this is something we are determined to help prevent. Energy efficiency is the most effective long-term solution.
Addressing this key stakeholder group is crucial to facilitate the movement away from a heavy reliance on government funding into an independent retrofit market which is self-sufficient and delivers at scale.
The SEA set out solutions for the able to pay sector in our 2020 report. For example, stamp duty or Council Tax linked to energy efficiency standards.
The SEA also advocates for an ECO+ Scheme, which would build upon the success of the current ECO scheme, bringing its benefits to the 'able-to-pay'.
Improvements are required to the EPC process for these solutions to be effective and the SEA has long advocated for the introduction of a Building Passport.
CONSUMER AND SUPPLY CHAIN KNOWLEDGE & SKILLS
The next gap is lack of awareness and knowledge.
Knowledge of alternative heating technologies have been increasing in recent years through increased awareness of climate change. However, there is still a significant lack of consumer and installer knowledge regarding low carbon technologies compared to traditional fossil fuel heating systems.
Industry skills must incorporate a holistic approach to ensure an efficient installation without unintended consequences. We need a competent workforce capable of designing, building, and retrofitting to deliver energy efficient, net zero carbon, healthy homes and buildings.
There needs to be a commitment to providing independent consumer advice through a 'one stop shop', as this will be crucial to helping homeowners through the transition.
The new build housing sector has a Future Homes hub, but we don't have the same in the retrofit sector to help with the knowledge and skills gap.
REBALANCING THE COST
Fossil gas is cheaper than clean electricity. It is important that, when people make the switch to low carbon technologies, they are being rewarded for using cleaner heat rather than facing higher bills. Levies applied to the electricity bill are exacerbating the problem and we are yet to see the Government's proposals for addressing this issue.
TECHNOLOGY AGNOSTIC APPROACH AND INNOVATION
The SEA advocates a fabric first, technology agnostic approach. Therefore, low carbon technologies, and energy efficiency measures, that meet the space and water heat demands of the building in question and lead to the right outcomes should be supported by government schemes, like the Boiler Upgrade Scheme that was launched today.
Government schemes must also support the use of innovation to help the adoption of new and existing, but not widely adopted, technologies. SMEs have a considerable challenge to get their products certified and eligible for government schemes due to the costs and complexity involved. There must be an efficient process to allow businesses the chance to demonstrate the impact of their products and solutions and help aid the transition to Net-Zero, while ensuring quality.
HEALTH AND WELLBEING
The indoor built environment contributes directly to people's health and wellbeing. We spend on average 90% of our time indoors, therefore addressing this alongside carbon reduction is more important now than ever. We have a real opportunity to create and use buildings to promote positive health and wellbeing while addressing net zero.
The Government and local authorities should make health and well-being a top priority, alongside the levelling up and zero carbon agendas. It would be great to see the UK Government replicate legislation passed in Wales. Their Well-being of Future Generations Act requires public bodies to think about the long-term impact of their decisions to prevent persistent problems such as poverty, health inequalities and climate change.
LONG TERM POLICY
The industry likes long term policy – roadmaps with clearly defined, target driven and not prescriptive policies.
The Construction Leadership Council and SEA are advocating for a National Retrofit Strategy, where the biggest policy gap remains.
The SEA has campaigned for many years to have legally binding Minimum Energy Efficiency Standards to provide confidence to the sector. A special thanks to Ron Bailey and Lord Foster who have joined us tonight and were instrumental in achieving this result. These now need to be enforced. We still hear of poorly performing homes being let to unfortunate tenants. And the standards need to be extended into other sectors, like non-domestic.
Our soon to be published report will set out these gaps in more detail and our recommendations for government. We all have a role to play too. We have some fantastic people with an amazing amount of knowledge across our membership, who are already working towards delivering our vision, and we are very happy to continue to collaborate with the Minister and policymakers to help deliver buildings which truly are Fit for the Future.